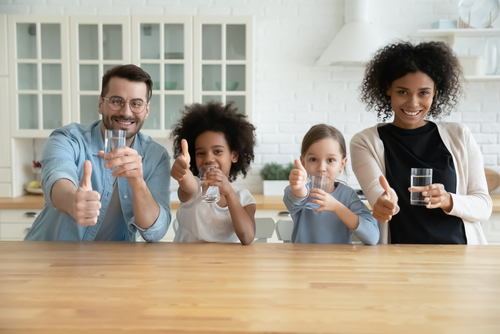 Drinking good quality water helps prevent dehydration, a condition that can affect memory, attention, mood, and energy levels. It also supports your body's natural detoxification processes through urination, perspiration, and bowel movements. Adults should aim to drink eight glasses of water a day, but the amount needed is different for children and the elderly. Babies and elderly people are made of a higher percentage of water, so they're at risk for dehydration more often. 
If you're looking to lose weight, drinking plenty of good quality water can help in a number of ways. It satiates thirst, reduces appetite, improves satiety, and helps you feel fuller for longer. It also increases your body's metabolic rate and helps you burn calories faster, says Elizabeth Huggins, a registered dietitian nutritionist at Hilton Head Health. Replacing your sugar-sweetened drinks with water can help you cut down on overall calorie intake, she adds. Plus, water increases lipolysis (the breakdown of fat) for energy, which may speed up metabolism and increase fat loss. However, you won't see weight-loss results overnight — drinking more water needs to be paired with a healthy diet and exercise routine to get the most out of it. 
Drinking good quality water is, without a doubt, a fantastic way to feel your best. It flushes out toxins, helps you lose weight, boosts your energy levels, and even improves your complexion! Drinking enough water can also help you sleep better, prevent headaches, and improve your concentration. Taking the time to find high-quality drinking water at home is an important step to staying healthy and feeling your best. Got some questions? Let the professionals at Alvarado Pumping Septic Service help! Contact them today!