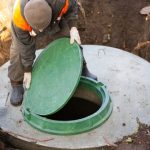 When it comes to septic system installation and repairs, it is crucial to hire a professional septic contractor who has the expertise and experience to get the job done right. A septic system is a vital component of your property's wastewater management, so it is essential to choose a contractor who understands the intricacies of septic systems and can ensure proper installation and maintenance. In this article, we will discuss the key factors to consider when selecting a septic contractor.
1. Licensing and Certification
The first and most important factor to consider is whether the septic contractor is licensed and certified. A reputable contractor should hold the necessary licenses and certifications required by the local or state regulatory authorities. These certifications ensure that the contractor has undergone proper training and possesses the knowledge and skills to handle septic system installation and repairs.
Before hiring a septic contractor, ask for proof of their licenses and certifications. This will give you peace of mind knowing that the contractor is qualified and meets the industry standards.
2. Experience and Expertise
Septic system installation and repairs require specialized knowledge and expertise. It is essential to choose a contractor with extensive experience in the field. An experienced contractor will have a deep understanding of different septic system designs, local regulations, and potential challenges that may arise during installation or repair.
Consider how long the contractor has been in the industry and ask for references or examples of their previous work. A contractor with a solid track record demonstrates their ability to deliver high-quality results.
3. Reputation and Reviews
Checking the reputation and reviews of a septic contractor is crucial in determining their reliability and professionalism. Look for review platforms, such as Google, Yelp, or the contractor's website, to read about other clients' experiences and their satisfaction with the contractor's services.
Additionally, ask for references from the contractor and reach out to their previous clients to inquire about their experience. A reputable contractor will be happy to provide references and have nothing to hide.
4. Range of Services
When selecting a septic contractor, consider the range of services they offer. A reliable contractor should be able to handle not only septic system installation but also repairs, maintenance, and inspections. This ensures that you can turn to the same contractor for any septic system-related needs that may arise in the future.
Choosing a contractor who offers comprehensive plumbing services can save you time and effort in finding different contractors for various septic system requirements.
5. Pricing and Estimates
While cost should not be the sole determining factor, it is essential to consider the pricing structure and estimates provided by the septic contractor. Ask for a detailed breakdown of the costs involved in the project, including any potential additional costs that may arise during installation or repairs.
Compare quotes from multiple contractors to ensure you are getting a fair price for the services provided. Keep in mind that the lowest price may not always indicate the best service, so prioritize quality and expertise when making your decision.
Conclusion
Selecting the right septic contractor for installation and repairs is crucial in ensuring the longevity and efficiency of your septic system. Consider factors such as licensing, experience, reputation, and range of services when making your decision. By choosing a reputable contractor with the necessary expertise, you can have peace of mind knowing that your septic system is in capable hands.
Got Questions? Let Us Help!
Welcome to Alvarado Pumping Septic Service, your family owned and operated septic system service company. Serving Stanislaus County and the surrounding areas for over 10 years, we offer the most competitively priced services from septic tank installation to septic tank inspection. When you need a reliable and trustworthy septic pump service, Alvarado Pumping Septic Service is there to help. With emergency services available, we take away the stress that comes with costly repairs. We do it right the first time, every time. Septic tank maintenance will avoid the high cost of a repair later on; we offer a complete pumping service that will keep everything moving the way that it should, with tight and waterproof sealing. Contact us today to learn more about what we can do for you!