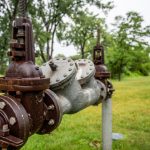 Backflow occurs when the direction of water flow in a plumbing system reverses, allowing contaminated water to flow back into the main water supply. This poses a serious health risk as it can contaminate drinking water with harmful substances. To prevent backflow and maintain the safety of our water supply, backflow preventers are installed in plumbing systems. In this blog post, we will provide a complete guide to backflow preventers, including their uses, installation, and maintenance.
1. Understanding Backflow and its Dangers
Before delving into backflow preventers, it's essential to understand the concept of backflow and its dangers. Backflow occurs when there is a drop in water pressure, causing water to flow in the opposite direction. This can allow contaminants, such as chemicals, bacteria, and other harmful substances, to enter the potable water supply. These contaminants can pose serious health risks if consumed, highlighting the importance of backflow prevention measures.
2. The Uses of Backflow Preventers
Backflow preventers are devices designed to prevent the reverse flow of water and protect the potable water supply from contamination. They are commonly used in various settings, including residential, commercial, and industrial properties. Some common uses of backflow preventers include:
– Residential: Backflow preventers are installed in residential plumbing systems to protect the drinking water supply from potential contaminants, such as pesticides, fertilizers, and cleaning chemicals.
– Commercial Buildings: Restaurants, hotels, hospitals, and other commercial buildings often have backflow preventers to safeguard against the ingress of hazardous substances, such as medical waste or cleaning agents, into the municipal water supply.
– Irrigation Systems: Backflow preventers are essential in irrigation systems to prevent any backflow of fertilizers or pesticides used in landscaping from contaminating the public water system.
– Fire Sprinkler Systems: Fire sprinkler systems may also require backflow preventers to prevent any potential contamination from the system's stagnant water.
3. Types of Backflow Preventers
There are several types of backflow preventers available, each designed to suit different applications and levels of protection. The main types of backflow preventers include:
– Atmospheric Vacuum Breakers (AVB): Commonly used in residential settings, AVBs prevent backflow by utilizing a check valve and an air inlet valve. However, they are best suited for low-risk situations and should not be used in high-pressure or continuous-pressure applications.
– Pressure Vacuum Breakers (PVB): PVBs are typically used in irrigation systems and provide moderate protection against backflow. They use a check valve and an air inlet valve to prevent backflow and are suitable for areas with moderate to high hazard levels.
– Double Check Valve Assemblies (DCVA): DCVAs are commonly used in commercial and industrial applications, offering a higher level of backflow protection. They consist of two check valves and are apt for high hazard situations.
– Reduced Pressure Zone Assemblies (RPZ): RPZ backflow preventers provide the highest level of protection against backflow. They incorporate two check valves and a separate relief valve to ensure reliable prevention of backflow, making them suitable for heavy industrial, commercial, and high-hazard applications.
4. Installation of Backflow Preventers
Professional installation of backflow preventers is crucial to ensure their proper functioning and effectiveness. It is advisable to hire a licensed plumber or backflow prevention specialist to install the appropriate backflow preventer for your specific needs. The installation process involves evaluating the water system, identifying potential backflow risks, and determining the suitable type of backflow preventer. The backflow preventer is then installed in accordance with local plumbing codes and regulations.
5. Regular Backflow Preventer Maintenance
To ensure the continued effectiveness of backflow preventers, regular maintenance is essential. Some important maintenance tasks include:
– Testing: Backflow preventers should be tested regularly to ensure they are working correctly. A professional tester can evaluate the device's performance and make any necessary adjustments or repairs.
– Cleaning: Debris or sediment may accumulate within the backflow preventer over time, affecting its efficiency. Regular cleaning is necessary to remove any build-up and keep the device working properly.
– Repairs and Replacements: If any leaks, malfunctioning components, or signs of damage are detected during maintenance or testing, immediate repairs or replacements should be carried out to ensure the backflow preventer functions effectively.
Conclusion
Backflow preventers are critical devices in maintaining the integrity and safety of our water supply. Understanding their purpose, types, and installation process is essential for protecting against backflow and preventing water contamination. Regular maintenance and testing of backflow prevention devices should never be overlooked to ensure their continued functionality. By following this complete guide to backflow preventers, individuals and communities can take necessary steps to safeguard their water supply and prioritize public health.
Got Questions? Let Us Help!
Welcome to Alvarado Pumping Septic Service, your family owned and operated septic system service company. Serving Stanislaus County and the surrounding areas for over 10 years, we offer the most competitively priced services from septic tank installation to septic tank inspection. When you need a reliable and trustworthy septic pump service, Alvarado Pumping Septic Service is there to help. With emergency services available, we take away the stress that comes with costly repairs. We do it right the first time, every time. Septic tank maintenance will avoid the high cost of a repair later on; we offer a complete pumping service that will keep everything moving the way that it should, with tight and waterproof sealing. Contact us today to learn more about what we can do for you!