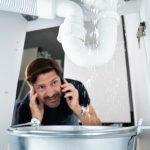 Dealing with plumbing emergencies can be a stressful experience. Whether it's a burst pipe, a clogged toilet, or a leaking faucet, these issues can cause significant damage to your home if not addressed promptly. In this blog post, we will provide you with some quick fixes for common plumbing emergencies and guide you on when it's best to call a professional plumber.
1. Burst pipes
A burst pipe is one of the most severe plumbing emergencies as it can lead to water damage and flooding. If you encounter a burst pipe, the first step is to locate the main water shut-off valve and turn it off immediately. This will stop the flow of water, preventing further damage. Once the water is turned off, you can temporarily patch the burst pipe using rubber or epoxy tape. However, it's crucial to call a professional plumber as soon as possible to fix the problem permanently.
2. Clogged toilet
A clogged toilet is a common plumbing issue that can be quite frustrating. Before calling a professional, you can try using a plunger to dislodge the blockage. Make sure to create a tight seal and push gently up and down. If the clog persists, avoid using chemical drain cleaners as they can damage your pipes. Instead, contact a plumber who can use professional tools to clear the blockage without causing harm.
3. Leaking faucets
Leaking faucets are not only annoying but can also waste a significant amount of water over time. In most cases, the cause of a leaking faucet is a worn-out or faulty O-ring or washer. You can try tightening the faucet handle or replacing the O-ring or washer yourself. However, if the problem persists, it's best to call a plumber. They will have the expertise to diagnose the issue and prevent any further leakage.
4. Water heater problems
A malfunctioning water heater can be a major inconvenience, especially if you rely on it for hot water. Before calling a professional, check the circuit breaker to ensure that it hasn't tripped. If that's not the issue, it's best to leave any repairs or adjustments to a licensed plumber. Attempting to fix a water heater yourself can be dangerous and may void the warranty.
5. Sewer line backup
A sewer line backup is a serious plumbing emergency that requires immediate attention. If you notice sewage backing up into your drains or toilets, it's crucial to stop using any water and refrain from flushing toilets until the problem is resolved. A sewer line backup requires the expertise of a professional plumber equipped with specialized tools and equipment to remove the blockage and restore proper drainage.
6. Frozen pipes
In cold climates, frozen pipes are a common problem during the winter months. If you suspect that a pipe has frozen, it's important to act quickly to prevent it from bursting. Open the faucet connected to the frozen pipe to relieve pressure and encourage thawing. You can also use a hairdryer or heating pad to warm the pipe gently. However, it's essential to avoid using any open flames or electrical devices in proximity to the frozen pipe. Once the pipe has thawed, check for any signs of damage or leakage. If you notice any issues, contact a professional plumber immediately.
Knowing the limits of DIY repairs
While there are several quick fixes you can attempt for common plumbing emergencies, there are situations in which it is best to call a professional plumber. Professional plumbers have the knowledge, skills, and specialized tools to tackle complex plumbing problems. They can diagnose the underlying cause of the issue and provide a long-term solution, ensuring the problem does not recur.
Conclusion
Navigating plumbing emergencies can be a challenging task. Quick fixes can be helpful for temporary relief in certain situations, but it's important to recognize when it's time to call a professional. When faced with a severe plumbing emergency or if you're unsure about the appropriate solution, reaching out to a licensed plumber is always the best course of action. They will ensure that the issue is resolved safely and effectively, protecting your home from further damage.
Got Questions? Let Us Help!
Welcome to Alvarado Pumping Septic Service, your family owned and operated septic system service company. Serving Stanislaus County and the surrounding areas for over 10 years, we offer the most competitively priced services from septic tank installation to septic tank inspection. When you need a reliable and trustworthy septic pump service, Alvarado Pumping Septic Service is there to help. With emergency services available, we take away the stress that comes with costly repairs. We do it right the first time, every time. Septic tank maintenance will avoid the high cost of a repair later on; we offer a complete pumping service that will keep everything moving the way that it should, with tight and waterproof sealing. Contact us today to learn more about what we can do for you!