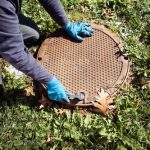 A septic system is an essential component of any household or commercial property that is not connected to the public sewer system. It plays a crucial role in treating and disposing of wastewater in an efficient and environmentally-friendly manner. However, like any other system, septic systems may require installation, maintenance, or repair work from time to time. Choosing the right septic contractor for such tasks is of utmost importance to ensure the longevity and efficiency of your system. Here are some key considerations to keep in mind when selecting a septic contractor.
1. License and Certification
One of the first things to verify when choosing a septic contractor is their license and certification. A reputable contractor should have the necessary licenses and certifications required by the state or local authorities to carry out septic system installations or repairs. These certifications indicate that the contractor has the required knowledge and expertise to handle septic systems safely and effectively.
2. Experience and Reputation
Experience is another crucial factor to consider. A contractor with several years of experience in the septic industry is more likely to have encountered a wide range of issues and developed effective solutions. Look for contractors who have a proven track record of successfully completing septic installations and repairs. Additionally, check online reviews and ask for references from previous customers to get an idea about the contractor's reputation.
3. Services Provided
Before finalizing a septic contractor, ensure that they offer the specific services you require. Septic systems can be complex, and different contractors may specialize in various aspects. Some contractors may focus on installation, while others may specialize in maintenance or repairs. Make sure the contractor you choose is experienced in the particular service you need. This ensures that they have the necessary skills and equipment to handle your specific requirements.
4. Response Time and Availability
Septic system issues can be urgent and should be addressed promptly to prevent further damage and inconvenience. Therefore, it is crucial to choose a septic contractor who is known for their quick response time and availability. A reliable contractor should be easily reachable by phone and able to provide emergency services when required. Ask about their typical response time and availability to ensure they meet your expectations.
5. Insurance Coverage
When selecting a septic contractor, always inquire about their insurance coverage. Mishaps can occur during installations or repairs, and having proper insurance coverage is essential to protect both the contractor and the property owner. A trustworthy contractor should have liability insurance as well as workers' compensation insurance. Ask for proof of insurance and verify its validity before signing any contracts or agreements.
6. Competitive Pricing
Price is an essential consideration when choosing a septic contractor, but it should not be the sole determining factor. It is important to strike a balance between quality and affordability. Beware of contractors who offer significantly lower prices than their competitors, as they may compromise on quality or cut corners to reduce costs. Obtain multiple quotes from different contractors and compare the services offered, reputation, and experience alongside the price to make an informed decision.
7. Maintenance and After-sales Service
Like any other system, septic systems require regular maintenance to ensure optimal performance. When selecting a septic contractor, inquire about their maintenance services and after-sales support. A responsible contractor should provide guidance on system maintenance and offer routine inspections to identify potential issues. A contractor who offers ongoing support and maintenance services will ensure the longevity and efficiency of your septic system.
Conclusion
Choosing the right septic contractor is crucial for the successful installation, maintenance, or repair of your septic system. By considering factors such as license and certification, experience, services provided, response time, insurance coverage, competitive pricing, and maintenance and after-sales service, you can make an informed decision. Investing time and effort in selecting the right septic contractor will result in a well-functioning system that will serve you for years to come.
Got Questions? Let Us Help!
Welcome to Alvarado Pumping Septic Service, your family owned and operated septic system service company. Serving Stanislaus County and the surrounding areas for over 10 years, we offer the most competitively priced services from septic tank installation to septic tank inspection. When you need a reliable and trustworthy septic pump service, Alvarado Pumping Septic Service is there to help. With emergency services available, we take away the stress that comes with costly repairs. We do it right the first time, every time. Septic tank maintenance will avoid the high cost of a repair later on; we offer a complete pumping service that will keep everything moving the way that it should, with tight and waterproof sealing. Contact us today to learn more about what we can do for you!