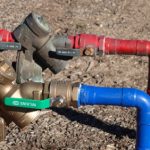 Backflow is a serious concern that can occur in plumbing systems, posing a significant health risk to individuals and communities. To combat this issue, backflow prevention devices have been developed to ensure the safe and clean delivery of water to our homes and businesses. In this comprehensive guide, we will explore what backflow is, why it happens, and the different types of backflow prevention devices available in the market.
Understanding Backflow
Backflow refers to the undesirable reversal of water flow in a plumbing system. This can occur when the normal flow of water is disrupted or when there is a change in pressure in the system. Backflow can lead to the contamination of clean water with harmful substances, such as chemicals, sewage, or bacteria, posing a risk to human health.
Causes of Backflow
Several factors can lead to backflow, including back-siphonage and backpressure. Back-siphonage occurs when there is a sudden drop in water pressure in the supply system, such as when a water main breaks or when there is a high demand for water from fire hydrants. Backpressure, on the other hand, occurs when there is an increase in pressure in the plumbing system, pushing water back into the clean water supply. This can happen when a pump or other devices are connected to the plumbing system, placing it under more pressure than the supply can handle.
Types of Backflow Prevention Devices
To prevent backflow, different types of backflow prevention devices are available, each designed to tackle specific scenarios and systems. These devices work by creating a physical barrier or by employing a check valve system to ensure that water flows in only one direction. Here are some common types of backflow prevention devices:
1. Air Gaps
An air gap is the most effective method of preventing backflow. It is a vertical air space between a water supply outlet and the flood level rim of a fixture, tank, or receptacle. By providing a physical break between the water outlets and potential sources of contamination, air gaps eliminate the possibility of backflow.
2. Double Check Valves
Double check valves consist of two independently operating check valves and are used to prevent backflow in non-health hazard applications, such as irrigation systems and fire sprinkler systems. These devices are designed to stop backflow even in the event of a failure in one of the check valves.
3. Reduced Pressure Zone (RPZ) Backflow Preventers
RPZ backflow preventers are commonly used in high-risk applications where there is the potential for a significant change in water pressure. These devices use a series of check valves and a relief valve to ensure that water only flows in the intended direction, even during a pressure drop or increase.
4. Pressure Vacuum Breakers (PVB)
PVB devices also use a check valve system combined with an air inlet valve to prevent backflow. These devices are often used in low-risk applications, such as residential lawn irrigation systems. PVBs are easy to install and maintain but may not be suitable for high-risk applications.
5. Spill-Resistant Vacuum Breakers
Spill-resistant vacuum breakers are specifically designed to prevent backflow in portable spray attachments, such as handheld showerheads or spray nozzles. These devices have built-in check valves that prevent water from flowing backward, ensuring the safety of the water supply.
Conclusion
Backflow prevention devices are essential in maintaining the safety and cleanliness of our water supply. By understanding the causes of backflow and the various types of backflow prevention devices available, we can take proactive measures to safeguard our plumbing systems and prevent potential health hazards. Whether it is the installation of a robust RPZ backflow preventer in a high-risk application or ensuring the use of spill-resistant vacuum breakers in handheld spray attachments, implementing appropriate backflow prevention measures is crucial in protecting the integrity of our water supply.
Got Questions? Let Us Help!
Welcome to Alvarado Pumping Septic Service, your family owned and operated septic system service company. Serving Stanislaus County and the surrounding areas for over 10 years, we offer the most competitively priced services from septic tank installation to septic tank inspection. When you need a reliable and trustworthy septic pump service, Alvarado Pumping Septic Service is there to help. With emergency services available, we take away the stress that comes with costly repairs. We do it right the first time, every time. Septic tank maintenance will avoid the high cost of a repair later on; we offer a complete pumping service that will keep everything moving the way that it should, with tight and waterproof sealing. Contact us today to learn more about what we can do for you!